Washington DC, USA, Friday 15 September 2023 – His Excellency President Dr Julius Maada Bio has delivered a public lecture on the topic: 'Building A Prosperous and Secured Future Through Human Capital Development -The Sierra Leone Example', at the School of International Service, the American University in Washington DC, United States.
"My lecture today is anchored on the strength of an empowered mind built on the bedrock of human capital development, the responsibilities that come with it, and the extraordinary possibilities that lie ahead." He told his alma mater.
"Suffice it to say that I was as persuaded in 1997 when I entered this university as I am now that Human Capital Development is the most potent arsenal for building a prosperous and secured future and finding relevance in the 21st Century. This has been the paradigm shift of our national development agenda and is already manifesting transformative dividends.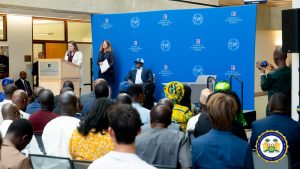 "My lecture today is anchored on the strength of an empowered mind built on the bedrock of human capital development, the responsibilities that come with it, and the extraordinary possibilities that lie ahead. We live in an era of rapid changes, innovations and interconnectedness. Our inherited world vastly differs from the one our parents and grandparents knew," he said.
Before he narrated the Sierra Leone example of how he has contributed to building a prosperous and secure future through human capital development, President Bio created the context, citing the fact that Sierra Leone was a nation with a tumultuous past.
"But we have moved beyond our history and made remarkable strides towards peace and stability, thanks to our commitments to Human Capital Development. Human Capital Development encompasses various initiatives to enhance individuals' skills, knowledge, and well-being, promoting socio-economic progress and ensuring long-lasting peace and security. My Government's priority focus on Human Capital Development is hinged on Education, Gender Equality and Youth Empowerment, which I will briefly highlight.
He agreed that the last five years, his first term in office, had brought their share of challenges, but that in the true Sierra Leonean spirit, his people would never shirk in the face of adversity. He added that challenges were an inevitable part of life that were often the catalysts for the most significant change.
"Leadership exists to solve problems. We must remember that progress is not linear, and setbacks are opportunities to learn, adapt, and grow stronger. As I embark on my second term, I reaffirm my unwavering commitment to the five quintessential pillars that will shape our journey forward, namely:
"Achieving Food Security is intimately linked with aggressive investments in agriculture. Our vision extends beyond merely feeding our people. We aim to ignite job creation, catalyse economic momentum, and significantly diminish the burdens of poverty.
"Human Capital Development: We will continue investing in Human Capital Development strategically to solve contemporary challenges and leverage opportunities, with an unwavering emphasis on achieving gender parity in all domains.
"Youth Employment Scheme is our solemn pledge to the vibrant youth of Sierra Leone that their dynamism, enthusiasm, and aspirations will be met with unparalleled opportunities in their homeland.
"The Technology and Infrastructure Programme is a forward-looking initiative designed to lay the bedrock for resilient and sustainable avenues of economic progress.
"The Reformation of our Public Service Architecture is a meticulous overhaul aimed at enhancing efficiency, instilling professionalism, and ensuring a service delivery mechanism befitting the aspirations of our people".
He concluded by recognising the fact that those were indeed tough times for the world, adding that the strongest economies quivered, and continents like Africa stood at pivotal junctures.
"We witness shifts in power, erosion of democratic institutions, an intensification of conflicts on a scale we hadn't imagined, and climate change's looming effects. Leadership must evolve in this era, marked by crises at every turn. We can no longer stand idly by as our young workforce leaves our shores searching for greener pastures.
"We cannot ignore the displacement of our people due to strife or the stifling of our children's futures. It is not enough to be defenders of the status quo; we must become the disruptors. Disruptors who strive to lift communities out of the depths of poverty, enabling our youth to rise to global challenges and ensure that every individual has the freedom to dream, choose, and lead a fulfilling life," he said.
For More Enquiries: State House Media and Communications Unit
info@statehouse.gov.sl